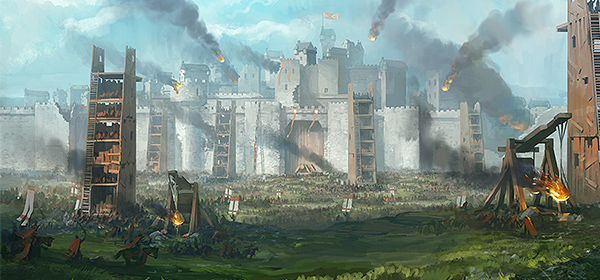 Dear players,

we've worked hard in the last few weeks so we would like to share with you what NEW can be found in KW X :

1) In the past few years many of you suggested that the Siege Machines should be more efficient and this part of the game should be more interesting. We agree with you, that's why we did the following changes:

From now on when the defender loses a building level, this will affect his/her experience points.

Here is an example:

Let's say that Gold mine has been destroyed from level 25 to level 24

The cost in resources for this level is : 9,691 Gold, 20,997 Iron, 12,921 Wood, 14,537 Food

If we sum them the total amount is : 58 146

Now we will multiply this number according to defender's level. Here is the formula:

1-19 level - 1x
20-29 level - 2x
30-39 level - 3x
40 level - 4x

Let's say that the level of the defender from our example is in the range between 30 and 39. We will multiply 58 146 x 3 = 174 438.

174 438 is the exact amount of Experience points that will be deducted from his account.

2) The whole menu "List all buildings" has been redesigned. From now on the buildings will be separated in 3 categories : Economy, Military and Production

3) The message system in the game has been revamped from scratch. Plenty of functionalities that were requested by the community have been added.

4) The design of the "Feedback form" in the game has been fixed.

5) We hope you will like the winter Gate and Game Design that are running at the moment.

6) A dozen other visual and game play bugs have been fixed as well.

What is coming up ?

Be ready to meet the new design of the "Send campaign" pop-up improved with plenty of features like "preview" of the selected battle formation.

Info pop-up of the campaigns will be redesigned, too.

Battle Formations will be revamped in order to make them more user friendly.


Wish you happy holidays with your favorite game !


Best regards,
Khan Wars team.